Memberships are due
New and renewing members can pay dues of $25 by mailing a check payable to Northern Indiana Pastel Society to treasurer Sue Coultas, 519 Woodruff, Niles, MI 49120, 269-683-6415, suecoultas@comcast.net.  Members must be current with their dues to participate in shows.

EXHIBITIONS
Fernwood Botanical Gardens | Clark Gallery
Friday, March 30 – Sunday, May 27, 2018
13988 Range Line Road, Niles MI 49120 269-695-6491
Displaying 50 entries by 29 Northern Indiana Pastel Society members.
Releasing Tuesday, May 29, 11am-5pm
NIPS members and guests attended the exhibition reception and awards ceremony on April 8. Exhibition Juror Susan Henshaw spoke, commenting on the challenges and process of selecting winners, and her rationale for each decision.
Congratulations to those receiving Judge's Awards:
 
UPCOMING EXHIBITIONS
MoonTree Studios, Donaldson, Ind.
Opening Oct. 6, releasing Nov. 5, 2018
South Bend Civic Theatre | Dec. 1–23, 2018
During the play, The Christmas Schooner
Salvation Army Kroc Center | March – May 2019
Buchanan Art Center | Spring 2020
Colfax Cultural Center | September – October 2020

RECENT EXHIBITIONS
Northern Indiana Pastel Society
Members Exhibition
Salvation Army Kroc Center, South Bend
900 W. Western Ave., South Bend
May 15 – July 9, 2017
The reception and awards presentation took place on Thursday, May 18.
Judge Kathryn Barbin, framer and art faculty at IUSB and Ivy Tech, provided the following statement:
With such an abundance of wonderful images it can be difficult to choose just a few standout pieces. So many artists here have presented works that show skillful handling of the medium, an interesting subject and composition, and even a bit of that elusive "je ne sais quoi". What makes an artwork remarkable? The answer to that of course is that it's always a subjective matter to judge art. It's part idea, part technique, plus that little something inexplicable. Here is a summary of the pieces that I thought were particularly remarkable.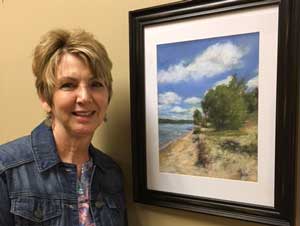 "Crystal Lake View" by Mary Meehan Firtl captures the sparkling quality of a breezy summer day using strong diagonals, crisp natural colors, and rich gritty texture.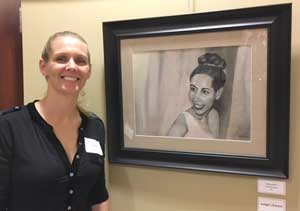 "Still Beautiful" by Ti-Patrice Lavers demonstrates how effective and striking a limited color range can be. Rosy tints and soft greys gently warm this black-and-white portrait, with its eye-catching asymmetrical composition.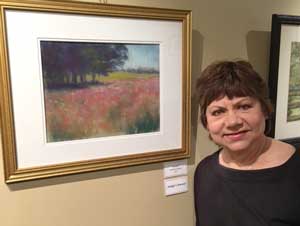 "Field Day" by Rose Mary Mireles depicts a summer field thick with red and pink flowers. It sweeps away, transforming into a citrusy green field in the distance.  Examined up close, its loose, understated strokes suggest more than describe, resulting in an airy buoyancy.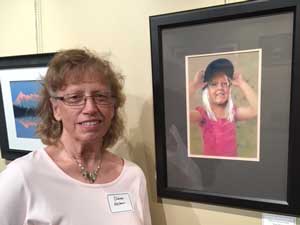 "Mia on a Summer Day" by Diann Nelson skillfully juxtaposes warm and cool accents to create a charming portrait. Strategic cropping creates an effective combination of positive and negative shapes, while vivid pinks and magentas pop against a neutral blend of textured ochres.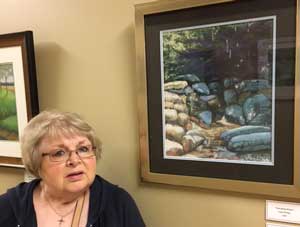 "Cascading Water" by Jude Phillips, despite its name, is a very solid-feeling, somewhat abstract study of rocks: warm versus cool, sunlit versus shady, advancing versus receding. Interestingly, the water itself is rendered in the same dry dusty tones as the sunlit boulders, as it descends from the shadowed violet thicket above.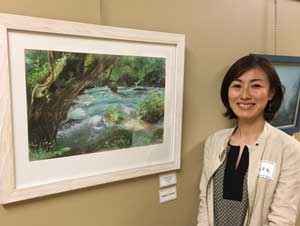 "Healing in Japan" by Yukako Sakaue contrasts a massive, solidly anchored diagonal tree braced against a backdrop of turbulent rushing water. Brilliant aquas and blues churn and flow, while a few deft strokes of soft orange at the lower right indicate where a ray of dappled light breaks through.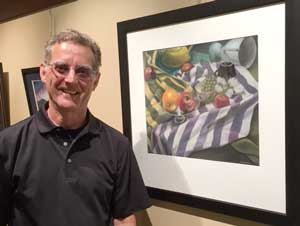 "Fruit and Fabric" by Paul Wieber is a still life that feels more like a rolling landscape: boldly striped undulating fabric envelops and sets off an array of fruit and objects. A smart dash of orange accentuates the point where apples and oranges meet.