EXHIBITIONS
UPCOMING EXHIBITION

Northern Indiana Pastel Society Members' Exhibit
Colfax Cultural Center | 914 Lincolnway West, South Bend, Ind.
Sept. 9 – Oct. 21, 2022
Deliver art 2–5 p.m. Tuesday, Aug. 30, 2022
Reception and awards the first Friday of October: 6-8 p.m. Oct. 7, 2022
Art released back to artists 3–5 p.m. Oct. 21, 2022
Gallery Hours: 11 a.m. to 3 p.m. Monday-Thursday. Friday by appointment.
Closed Saturday-Sunday.
Entries marked #1 will be accepted, entries marked #2 may be juried out if space requires, but we hope all will be hung.
Fee: $10 for the first entry, $5 for the second entry. Colfax retains a 20% commission on sales.
Please download, print and complete this entry form.
Prizes will be selected by Justin Barfield, assistant professor in the Art Department at the University of Notre Dame. He also will hang the show.
The art must be at least 80 percent pastel. There is no size restriction. The art must be framed under glass and installed with hooks and wire. Frames and mats must be in good condition and free of pastel dust. Content must be appropriate for a family gallery space. The art should not have been shown in a previous NIPS exhibit or at Colfax. Northern Indiana Pastel Society will not accept financial liability for accidents or loss.
Participants must be NIPS members. Dues of $25 can be sent to treasurer Sue Coultas, 519 Woodruff, Niles MI 49120. Help will be needed to receive art. To volunteer, or for questions about the show or help transporting art to the show, contact Dee Thornton, deelthorn@att.net. Appetizers and desserts will be appreciated for the reception.
RECENT EXHIBITIONS
Northern Indiana Pastel Society Members' Show
March 14–May 14, 2022
Salvation Army Kroc Center, 900 W. Western Ave., South Bend IN 46601

Awards were selected by Barbara Miller of Penn High School, the Art Teacher of the Year in Indiana. Congratulations to these award winners:
Mary Meehan Firtl, "Pond at St Pat's Park"
Barbara Gentner Stephenson, "Burgers in the Sky"
Peg Luecke, "Cuyahoga Path"
Bridget Marcus, "Crowned Crane from Flight Patterns Series"
Robert R. Williams, "Leyla in Green Head Scarf"
Click here for the juror's statement.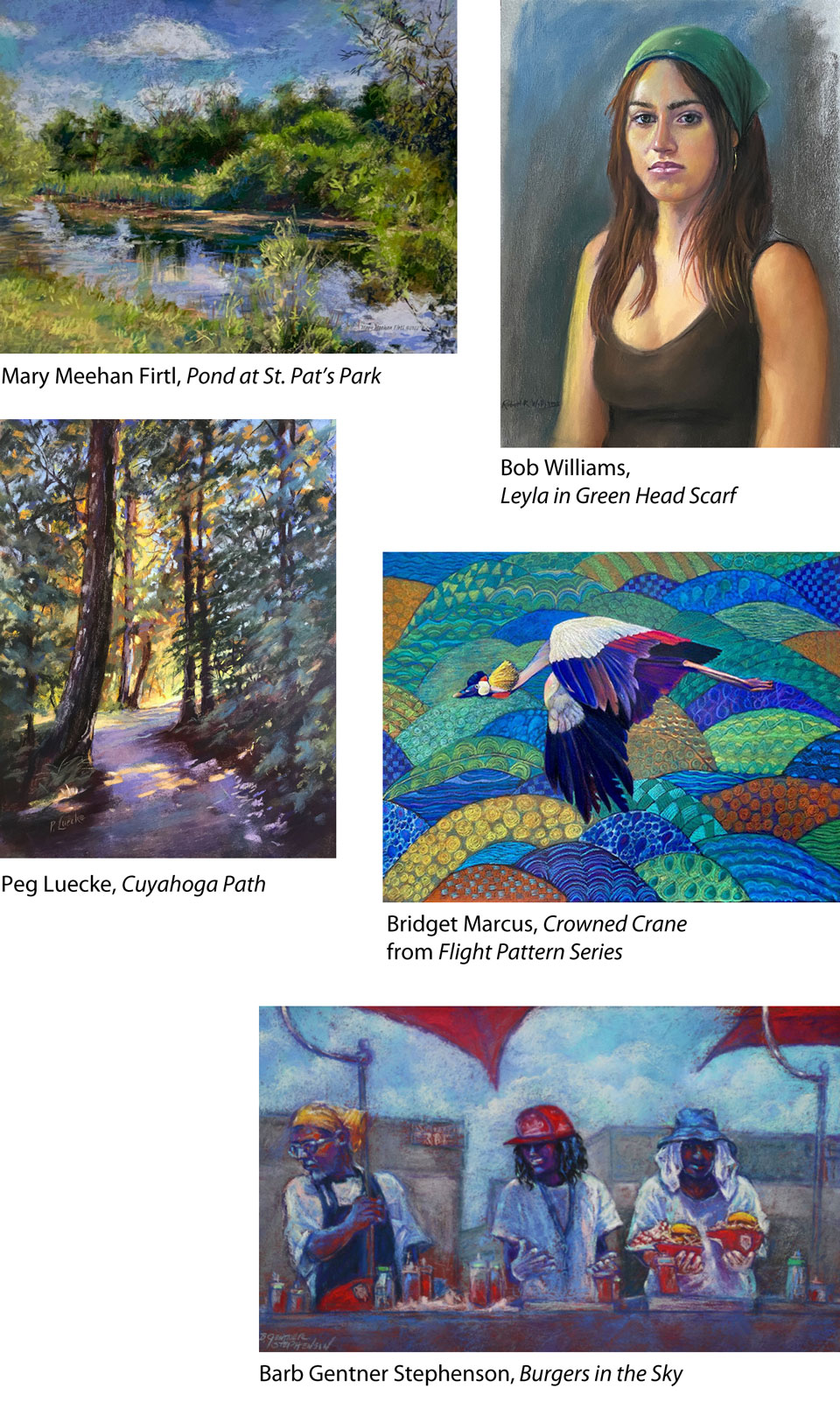 Some of the paintings on display:


Autumn Brilliance
Fernwood Botanical Garden
13988 Range Line Road, Niles, MI
Sept. 3 – Oct. 31, 2021
The pastel show featured 35 works by 20 artists. Landscapes, portraits, florals, still life paintings and abstracts were on view. The autumn theme represents the time of year the exhibit takes place in Fernwood's colorful environment as well as the autumn views depicted in some of the artwork. Reception with awards took place on October 31, 2021. 
Juror Amanda Ward announced the following prize winners:
Avon Waters – "Morning Haze"
Kendra Nafziger – "Into the Light"
Shandelle Henson – "River Birches on Juday Creek
Karen Jacob – "Cloud Nine"
Bridget D. Marcus – "European Bee-Eater"
Click
here
to read the juror's statement.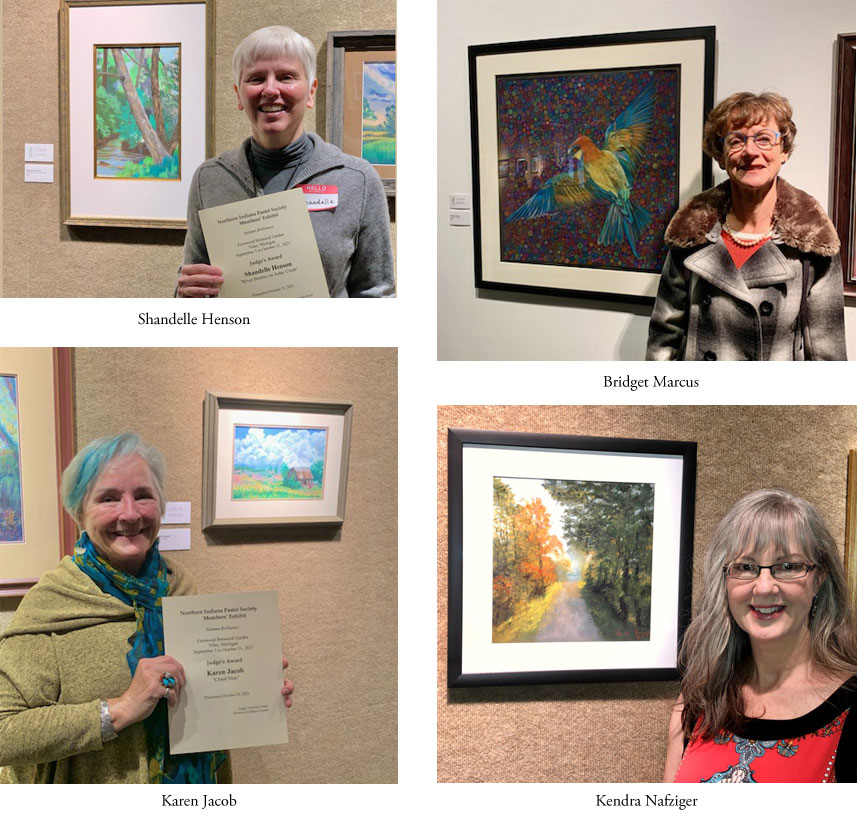 Here are some of the works that were on exhibit: