CURRENT EXHIBITIONS

Northern Indiana Pastel Society Members' Show
March 14–May 14, 2022
Salvation Army Kroc Center, 900 W. Western Ave., South Bend IN 46601
Reception with awards Saturday, May 14, 11 a.m. to 1 p.m.
Art will be released at 1 p.m.

Kroc Hours: 5:30 a.m. to 9 p.m. Monday to Thursday, 5:30 a.m. to 7 p.m. Friday, 7 a.m. to 2 p.m. Saturday, closed Sunday. The gallery is in the lower level.

All works that were entered in the Northern Indiana Pastel Society show are on display: 32 works by 20 artists.
Awards were selected by Barbara Miller of Penn High School, the Art Teacher of the Year in Indiana. Congratulations to these award winners:
Mary Meehan Firtl, "Pond at St Pat's Park"
Barbara Gentner Stephenson, "Burgers in the Sky"
Peg Luecke, "Cuyahoga Path"
Bridget Marcus, "Crowned Crane from Flight Patterns Series"
Robert R. Williams, "Leyla in Green Head Scarf"
Click here for the juror's statement.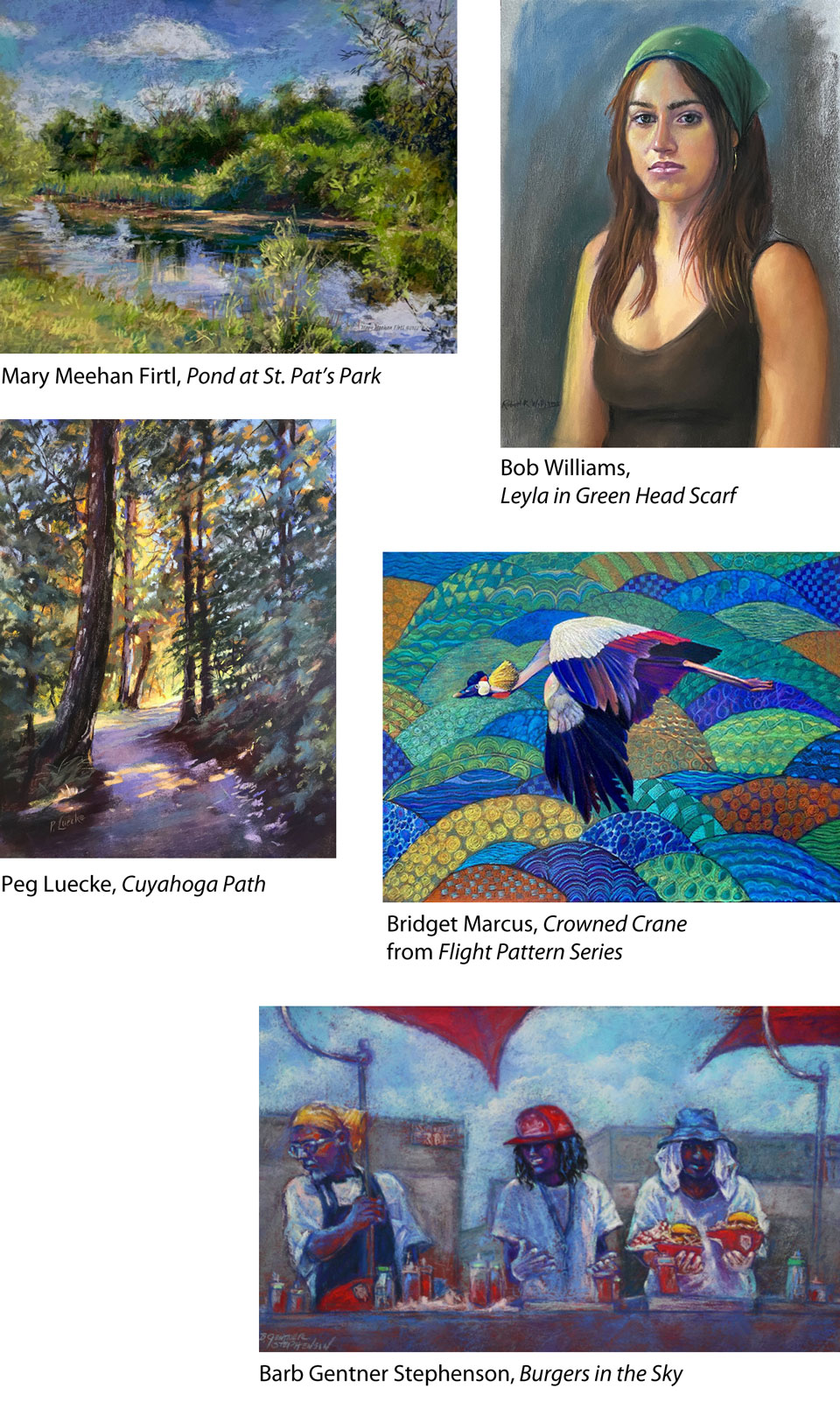 Some of the paintings on display:

UPCOMING EXHIBITION: Save the Date!
Colfax Cultural Center| South Bend Sept. 9 to Oct. 14, 2022

RECENT EXHIBITIONS

Autumn Brilliance
Fernwood Botanical Garden
13988 Range Line Road, Niles, MI
Sept. 3 – Oct. 31, 2021
The pastel show featured 35 works by 20 artists. Landscapes, portraits, florals, still life paintings and abstracts were on view. The autumn theme represents the time of year the exhibit takes place in Fernwood's colorful environment as well as the autumn views depicted in some of the artwork. Reception with awards took place on October 31, 2021. 
Juror Amanda Ward announced the following prize winners:
Avon Waters – "Morning Haze"
Kendra Nafziger – "Into the Light"
Shandelle Henson – "River Birches on Juday Creek
Karen Jacob – "Cloud Nine"
Bridget D. Marcus – "European Bee-Eater"
Click
here
to read the juror's statement.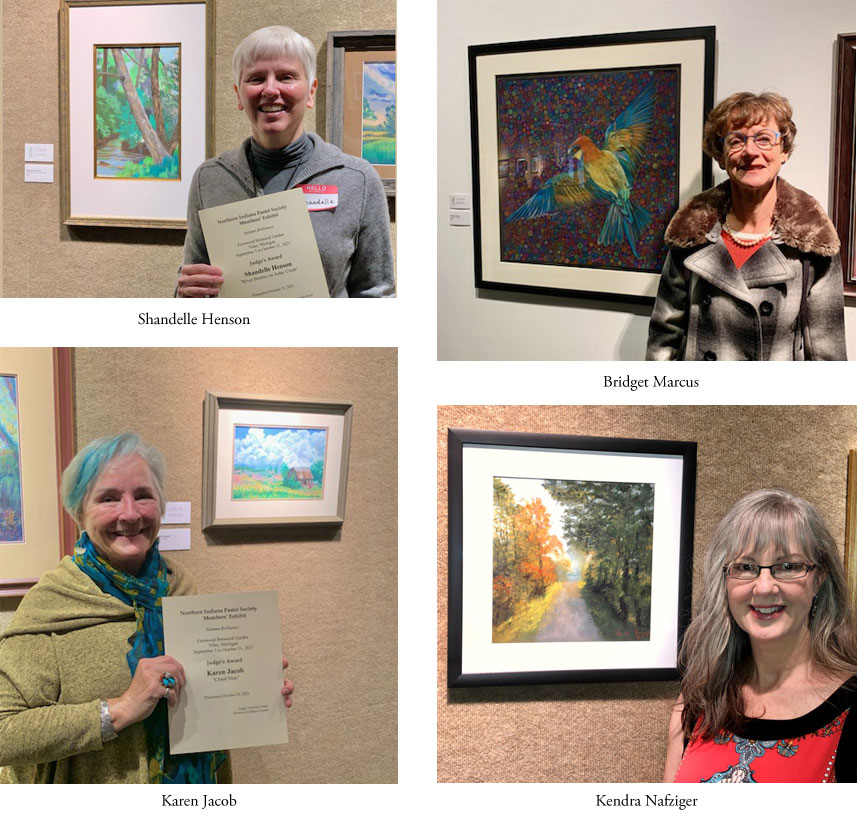 Here are some of the works that were on exhibit:


Pastel Expressions | Northern Indiana Pastel Society Membership Exhibit
June 1 – July 23, 2021
MoonTree Studios
9638 Union Road, at the Center at Donaldson, Plymouth, Indiana.
Prizes were awarded to Hilarie Couture, Barb Gentner Stephenson, Rosie Mireles and Mona Witt.
Prize judge: Painter Bob Nowalk has been a Culver Academies curator and art instructor since 1996 and is a member of the Marshal County Arts and Culture Subcommittee. He did his bachelor's degree exhibit in pastel at University of Dayton. He received his master's from Michigan State University.
Read the Judge's Statement here.
Here are some of the 21 paintings by 14 artists included in the exhibition: