EVENTS
Northern Indiana Pastel Society Meeting

Saturday, June 24 | 10:30 a.m.
Roger B. Francis Branch Library
52655 Ironwood Road, South Bend Indiana 46635
Our speaker will be pastel artist Sibella Talic of South Bend. Her art includes landscapes and florals, but she is known for the powerful portraits she enters in Art for the Heart of Africa auctions benefiting a church mission in Africa. Sibella will talk about her life and art journey from Bosnia to the US.  She will tell how she came to love pastel, what inspires her, and what she has been doing recently as an artist. See her art on her Facebook page, Sibella's Art.
The meeting includes a social time and updates on events of interest. Contributions of muffins, fruit, etc. are appreciated!
 
EXHIBITIONS
Northern Indiana Pastel Society
Members Exhibition
Salvation Army Kroc Center, South Bend
900 W. Western Ave., South Bend
May 15 – July 6, 2017
Releasing July 7-9
The reception and awards presentation took place on Thursday, May 18.
Judge Kathryn Barbin, framer and art faculty at IUSB and Ivy Tech, provided the following statement:
With such an abundance of wonderful images it can be difficult to choose just a few standout pieces. So many artists here have presented works that show skillful handling of the medium, an interesting subject and composition, and even a bit of that elusive "je ne sais quoi". What makes an artwork remarkable? The answer to that of course is that it's always a subjective matter to judge art. It's part idea, part technique, plus that little something inexplicable. Here is a summary of the pieces that I thought were particularly remarkable.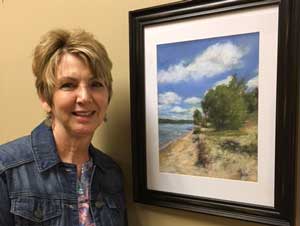 "Crystal Lake View" by Mary Meehan Firtl captures the sparkling quality of a breezy summer day using strong diagonals, crisp natural colors, and rich gritty texture.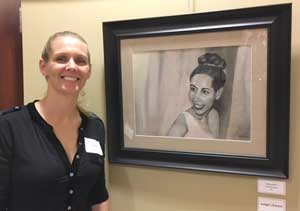 "Still Beautiful" by Ti-Patrice Lavers demonstrates how effective and striking a limited color range can be. Rosy tints and soft greys gently warm this black-and-white portrait, with its eye-catching asymmetrical composition.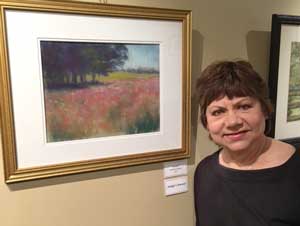 "Field Day" by Rose Mary Mireles depicts a summer field thick with red and pink flowers. It sweeps away, transforming into a citrusy green field in the distance.  Examined up close, its loose, understated strokes suggest more than describe, resulting in an airy buoyancy.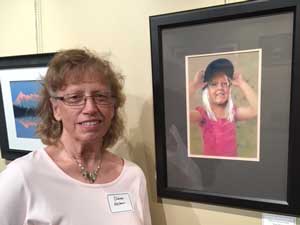 "Mia on a Summer Day" by Diann Nelson skillfully juxtaposes warm and cool accents to create a charming portrait. Strategic cropping creates an effective combination of positive and negative shapes, while vivid pinks and magentas pop against a neutral blend of textured ochres.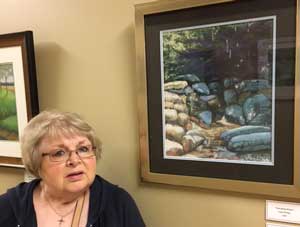 "Cascading Water" by Jude Phillips, despite its name, is a very solid-feeling, somewhat abstract study of rocks: warm versus cool, sunlit versus shady, advancing versus receding. Interestingly, the water itself is rendered in the same dry dusty tones as the sunlit boulders, as it descends from the shadowed violet thicket above.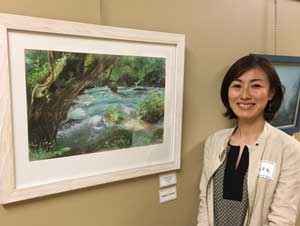 "Healing in Japan" by Yukako Sakaue contrasts a massive, solidly anchored diagonal tree braced against a backdrop of turbulent rushing water. Brilliant aquas and blues churn and flow, while a few deft strokes of soft orange at the lower right indicate where a ray of dappled light breaks through.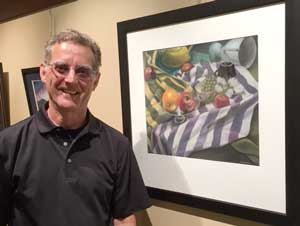 "Fruit and Fabric" by Paul Wieber is a still life that feels more like a rolling landscape: boldly striped undulating fabric envelops and sets off an array of fruit and objects. A smart dash of orange accentuates the point where apples and oranges meet.
Congratulations to everyone who entered the show!

UPCOMING EXHIBITIONS
South Bend Civic Theatre
Oct. 20–Dec. 23, 2017
Fernwood Botanical Gardens Gallery
Spring 2018.
Larger works show well at Fernwood.
MoonTree Studios, Donaldson, Indiana
October 2018

RECENT EVENTS
Northern Indiana Pastel Society Meeting and Program
Saturday, Feb. 11, 2017 
South Bend Museum of Art
Mark Rospenda, curator of exhibitions and collections at the South Bend Museum of Art, spoke on the duties and thoughts of a curator in organizing and hanging exhibits, and offered some practical tips for hanging our own art in shows and at home.
Mark shared this site and this diagram as aids in hanging art work in your home.

RECENT EXHIBITIONS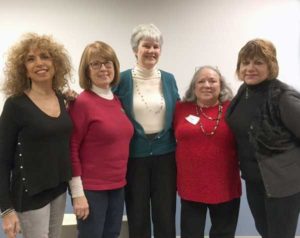 Membership Exhibit | Dec. 2, 2016 – Feb. 2, 2017
Spencer Gallery | Mishawaka IN, Downtown Library

This exhibition of members' work featured 37 works by 27 artists and was the 4th NIPS exhibition of 2016, which marks the 10th anniversary of the organization. Mark Rospenda, curator of the South Bend Museum of Art, served as judge. Awards were presented to Barbara Gentner Stephenson, Kathleen Wolfe, Peg Luecke, Shana Dines and Rosie Mireles.
Northern Indiana Pastel Society at South Bend Civic Theatre Gallery
Sept. 16 – Oct. 31, 2016
25 works by NIPS members were featured in this exhibition, our eighth at South Bend Civic Theatre.
Northern Indiana Pastel Society: 10th Anniversary Exhibit | Milestones
South Bend Museum of Art | Jerome J. Crowley Community Gallery
May 28 – August 7, 2016

This exhibit marked the 10th anniversary of the founding of the Northern Indiana Pastel Society. The show included 40 works by 35 members of NIPS. A total of 57 works were submitted. The show was juried by David Baker, art professor emeritus, Southwestern Michigan College.
Award recipients include Peg Luecke and Alan Larkin of South Bend, Gerrie Govert of Crown Point, Debra Eiswald of Constantine, Michigan, and Keith Grindall of Montpelier, Ohio.