Upcoming Events
May Membership Meeting
Saturday, May 6, 2023
Potluck luncheon hosted by Northern Indiana Artists Inc.
Arrive at 11:30, luncheon at noon. Artists may bring a guest.
Sacred Heart Parish Center | North side of Notre Dame campus, west of the Douglas roundabout, south off Moreau Drive

Recent Events
NIPS Meeting: Saturday, March 4, 2023
Program: Venture into Pastels
Dan Slattery, an award-winning watercolorist who recently started painting in pastels, displayed several recently completed paintings and shared what attracted him to pastel, and what he's learned about the differences between the two mediums. "There is still much I don't understand about pastels. Every picture I attempt is a journey into the unknown, each painting explores something new." Dan is a former president of the St. Joe Valley Watercolor Society and the Northern Indiana Artists, Inc. He teaches watercolor painting at South Bend Museum of Art.
Holiday Potluck Luncheon
Friday, Dec. 9, 2022
Thanks to NIPS and the Friday Pinhook Pastel Group for hosting our holiday luncheon! Members and guests enjoyed the time with their pastel peeps, a delicious potluck spread, and a chance to view members' works on display. A book exchange and gift of sample Terry Ludwig pastels rounded out the festive occasion!
Thanks to organizers Dee Thornton, Mary Firtl and Cathy McCormick as well as volunteers who helped with set up and clean up.
Happy Holidays to all!
Avon Waters Featured Presenter at Fall NIPS Membership Meeting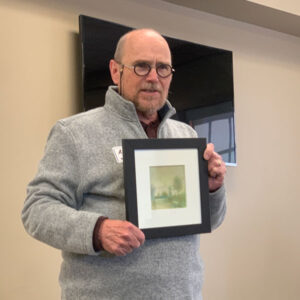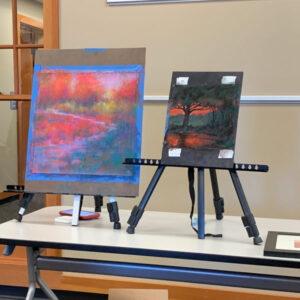 On October 29, NIPS member Avon Waters shared his experience of a two-year project painting the waterways of Indiana in preparation for his new book, "Indiana Waterways: The Art of Conservation." The paintings are among 60 paintings created along with five other Indiana plein air artists to call attention to the importance of protecting the state's water.
The exhibit is on display at the Indiana State Museum from Oct. 16-Dec. 11 and features stirring images of 25-30 different locations in the 62,000 miles of rivers, streams, and tributaries in Indiana. Learn more here.
Avon described his experiences in painting the waterways, organizing the project and how to purchase the book, which is available locally at CircaArts Gallery in South Bend.
He also shared a work in progress (pictured on tabletop easel) explaining his technique.

Upcoming Exhibitions
MoonTree Studios, Donaldson, Ind. | JUNE 13–JULY 31, 2023
Buchanan Art Center, Buchanan, Mich. | SEPT. 18 (HANGING) TO OCT. 29, 2023
Heartland Artists Gallery, Plymouth, Ind. | JULY 2024
Colfax Cultural Center, South Bend, Ind., | SEPTEMBER-OCTOBER 2025
Recent Exhibitions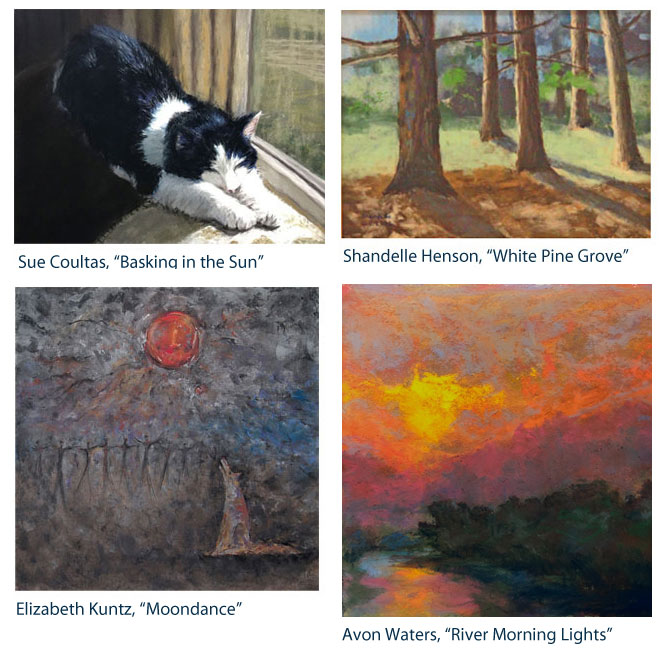 Pastel Viewpoints
Northern Indiana Pastel Society Members' Exhibit
Colfax Cultural Center
914 Lincolnway West
South Bend, IN
Sept. 9 – Oct. 21, 2022
Twenty-four works by NIPS members were on exhibit.
Awards were presented to Sue Coultas and Shandelle Henson of Niles, Mich., Avon Waters of Converse, Ind., and Elizabeth Kuntz of South Bend. The judge was Justin Barfield, Colfax Cultural Center gallery curator.