EXHIBITIONS
Visions: Northern Indiana Pastel Society Members' Show
March 15–May 1, 2021
Salvation Army Kroc Center
Lower Level Lobby
900 W. Western Ave., South Bend IN 46601
Hours for the Kroc Center are 5:30 a.m. to 9 p.m. Monday through Thursday, 5:30 a.m. to 7 p.m. Friday and 7 a.m. to 5 p.m. Saturday.
The public is welcome to view the show.  Masks required.
A reception with awards will be 3-5 p.m. May 1.
After the event, artists will take home their art.
On view are 39 works by 25 artists.

The prize judge was Angelo Ray Martinez, assistant professor of art at Holy Cross College. He selected four judge's awards (with $75 cash prizes) and in honor of the 15th anniversary of the founding of our pastel society, he selected an additional four merit awards (with $50 cash prizes).
Congratulations to the following artists:
Judge's Awards:
Peg Luecke, "Sycamore"
Diann Nelson, "Corinne 2020"
MaryAnn Ross, "Remnant of Fall"
Megan R. Wright, "Three Pears"
Merit Awards:
Tana S. Bondar, "Purple Passion"
Hilarie Couture, "Flamenco Drama"
Rosie Mireles, "April Snows"
Paul Wieber, "Alyssa, Sleeping"
Juror's Statement:
Due to the large amount of incredibly strong work in this exhibition, the jury process was a challenging task. Ultimately, the final awards were selected based upon three possible attributes: overall technical skill, creative personal vision, and an innovative approach. Some compositions masterfully excelled in one of these categories, but priority was given to works that combined two or more of these important qualities.
However, it was a pleasure to spend time with all the artworks in this diverse exhibition! Each artist truly brings something unique and special to contemplate and enjoy. Thank you all for your beautiful talent and creativity!
With sincerity,
Angelo Ray Martínez, M.F.A.
Assistant Professor of Visual Arts
Program Director, Visual Arts & Music
Director, St. Joseph Gallery
Holy Cross College at Notre Dame, IN.
Here are some of the works on exhibit: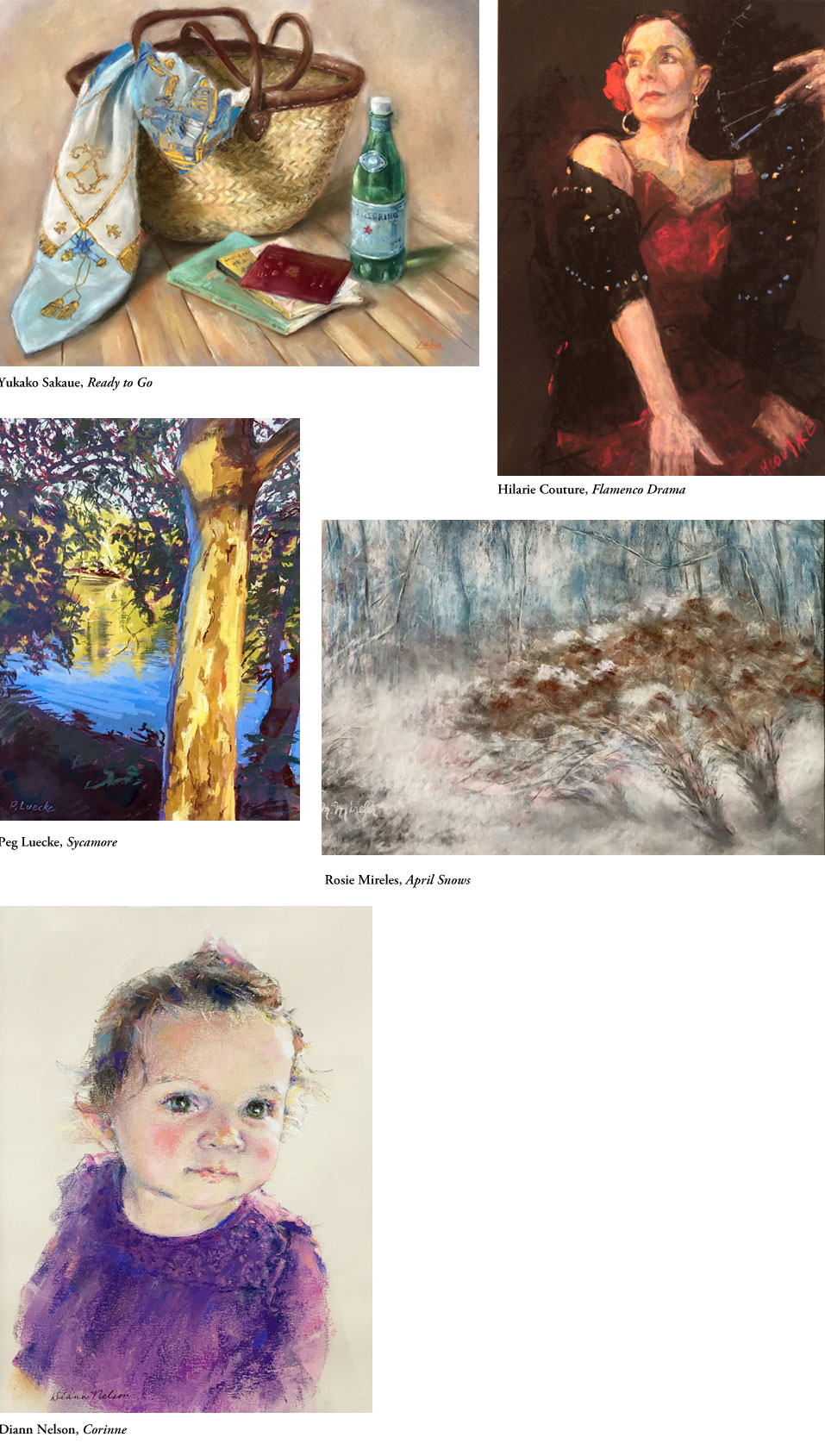 RECENT EXHIBITIONS
Northern Indiana Pastel Society Members' Show
Sept. 11 – Oct. 23, 2020  | Colfax Cultural Center

All three galleries
914 Lincolnway West, South Bend, IN 46616
We had 33 entries from 18 artists.
Justin Barfield, art faculty member at University of Notre Dame, installed the art and served as juror.
Congratulations to the following award winners:
Clare Hoinville for Carrots, 
Corrine Hull for After the Storm 
Mary Ann Ross for The Lord's Palette
Tim Swagerle for She Won't Be Here Long
Most painting are available for sale. Click here for a list of exhibiting artists and price list.
Selections of paintings exhibited:

UPCOMING EXHIBITIONS
Moon Tree Studios | Donaldson, Indiana 
May 8 – June 20, 2021
Set up: May 4–7  | Reception: May 15, 1:00–3:00 p.m.
Take down: June 21