Upcoming EXHIBITIONS
Faces and Places: Northern Indiana Pastel Society Members' Show
Salvation Army Kroc Community Center
900 W Western Avenue
South Bend, Indiana 46601
March 15-May 18, 2019
Deliver art Monday, March 11, 2-5 p.m.
Reception and awards Thursday, March 21, 5:30-7:30 p.m.
Art will be released Saturday May 18, 3-5 p.m.
Members may enter one or two pieces. The first will be displayed. The second may be eliminated if space requires.
Fee is $10 for the first entry, $15 for two entries.
Buchanan Art Center | Spring 2020
Colfax Cultural Center | September – October 2020

RECENT EXHIBITIONS
Reflections in Pastel: Northern Indiana Pastel Society Membership Exhibit
South Bend Civic Theatre
403 N. Main St., South Bend 46601
November 9 – December 23, 2018
52 works in pastel exhibited by 30 members of Northern Indiana Pastel Society
Reflections in Pastel: Northern Indiana Pastel Society Membership Exhibit
Oct. 6 – Nov. 4, 2018 | MoonTree Studios
9638 Union Road, at the Center at Donaldson, Plymouth, Indiana.
Reception with awards 1-3 p.m. Saturday, Oct. 13.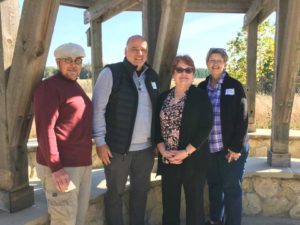 Award winners included:
Avon Waters, Reflections
T.R. (Tim) Swagerle, Carnival
Evelyn Schwenk, Still Waiting,
Greg Lorch, After the Storm 2
Lylanne Musselman, Hello Darkness
Pictured from left: Avon Waters, Greg Lorch, Evelyn Schwenk and Lylanne Musselman
Pastel Pathways | Membership Exhibition
Fernwood Botanical Gardens | Clark Gallery
Friday, March 30 – Sunday, May 27, 2018
13988 Range Line Road, Niles MI 49120 269-695-6491
Displaying 50 entries by 29 Northern Indiana Pastel Society members.
Releasing Tuesday, May 29, 11am-5pm
NIPS members and guests attended the exhibition reception and awards ceremony on April 8. Exhibition Juror Susan Henshaw spoke, commenting on the challenges and process of selecting winners, and her rationale for each decision.
Congratulations to those receiving Judge's Awards: