NIPS Mid Summer Meet & Greet … and Paint!
Enjoy elegant refreshments while drawing, painting and photographing the beautiful gardens at
The Carriage House Dining Room  |  Friday, July 27, 2018   4-6:00 p.m.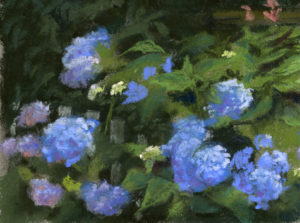 Hors d'oeuvres, naturally flavored lemonade, iced tea and wine
$10 per person   Rain date Aug. 3
24460 Adams Road, South Bend 46628
West on Adams Road to Orange Road
Be inspired by abundant hydrangea blooms, day lilies and roses as well as ancient trees in sunny gardens and shady nooks. Plein air painting is encouraged. Come out and enjoy the company of fellow pastel artists. Spouses and guests are welcome too.
UPCOMING EXHIBITIONS
MoonTree Studios, Donaldson, Ind.
Opening Oct. 6, releasing Nov. 5, 2018
South Bend Civic Theatre | Dec. 1–23, 2018
During the play, The Christmas Schooner
Salvation Army Kroc Center | March – May 2019
Buchanan Art Center | Spring 2020
Colfax Cultural Center | September – October 2020

RECENT EXHIBITIONS
Fernwood Botanical Gardens | Clark Gallery
Friday, March 30 – Sunday, May 27, 2018
13988 Range Line Road, Niles MI 49120 269-695-6491
Displaying 50 entries by 29 Northern Indiana Pastel Society members.
Releasing Tuesday, May 29, 11am-5pm
NIPS members and guests attended the exhibition reception and awards ceremony on April 8. Exhibition Juror Susan Henshaw spoke, commenting on the challenges and process of selecting winners, and her rationale for each decision.
Congratulations to those receiving Judge's Awards: