NIPS Membership Meeting
Don't miss our next meeting:
Sunday, October 20 | 1:30 p.m. 
South Bend Museum of Art | Upstairs studio
120 S. Dr. Martin Luther King Jr. Blvd.
South Bend, Indiana
Located in the Century Center, downtown South Bend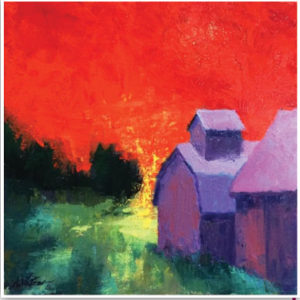 Program:  Better Compositions by Avon Waters
NIPs member Avon Waters' presentation on composition features a brief overview of his two-year study of composition from some of the foremost experts on the subject. He has presented this topic in a three-hour workshop featuring demonstrations of 20 different composition designs. His 30-minute discussion cannot cover all the designs, but he will give members a taste of how good composition can position artist to be in the running for sales and awards.
Avon began painting before he started school. He studied art at IU and is a regular workshop attendee. He started out painting in oils but switched to pastel three years ago. He has won awards this year at the New Harmony Hoosier Salon, Heartland Artists Gallery, the Honeywell Clark Gallery, Decatur printout, and the TC Steele Memorial art contest in Brown County. His work is on exhibit at the Minneterista Center, Heartland Artist Gallery in Plymouth, in the Senate offices in the Capitol Building, Washington DC, and a solo show at the Kokomo Art Center.
Your contribution of appetizers and desserts will be welcome.

EXHIBITIONS
Upcoming EXHIBITIONS
Notre Center for Civic Innovation Crossroads Gallery | South Bend, Indiana
formerly the ND Center for Art and Culture
Jan 24 to Feb. 27, 2020
Buchanan Art Center | Buchanan, Michigan
Showcase Gallery   
May 20 to June 27, 2020
Deliver: May 17 | 1:00 – 4:00 p.m.
Reception: May 31 | 2:00 – 4:00 p.m.
Releasing: June 28 | 11:00 a.m. – 2:00 p.m.
Colfax Cultural Center | South Bend, Indiana 
Sept. 11 to Oct. 23, 2020. All three galleries.
Kroc Center | South Bend, Indiana 
March – May 2021
Moon Tree Studios | Donaldson, Indiana 
May 8 – June 20, 2021
Set up: May 4–7  | Reception: May 15, 1:00–3:00 p.m.
Take down: June 21

RECENT EXHIBITIONS
Northern Indiana Pastel Society Members' Exhibit
Heartland Artists Gallery | Plymouth, Indiana
July 23 to Aug. 24, 2019
32 works by 20 artists are on view. Judge's Awards were presented at the reception on Sunday, August 4 to four artists: from left, Paul Wieber, Red, White and Blue;  Tim Swagerle, Summer Morning;  Mary Firtl, Café Confidential; and Avon Waters, Maples at Dusk.
Faces and Places: Northern Indiana Pastel Society Members' Show
Salvation Army Kroc Community Center
900 W Western Avenue
South Bend, Indiana 46601
March 15-May 18, 2019
Prizes were selected by Assistant Prof. Angelo Martinez, art dept. chair, Holy Cross College.
The following artists received Judge's Awards:

Below is a sampling of some of the 47 pastels on exhibit.