EXHIBITIONS
Pastel Expressions | Northern Indiana Pastel Society Membership Exhibit
June 1 – July 23, 2021
MoonTree Studios
9638 Union Road, at the Center at Donaldson, Plymouth, Indiana.
Hours: 9-11:30 a.m. and 1-4 p.m. Monday through Friday. Closed July 5.
Please note that Mondays and Fridays the gallery will be open for walk-ins, but appointments should be made to visit Tuesdays through Thursdays as MoonTree hosts programs those days and the door may be locked.
To make an appointment to view the exhibit, please contact the office at moontree@poorhandmaids.org or call 574-935-1712.
Reception with awards and releasing Friday, July 23 | 2 – 4 p.m.
Releasing 4 p.m. Friday July 23.
Prize judge: Painter Bob Nowalk has been a Culver Academies curator and art instructor since 1996 and is a member of the Marshal County Arts and Culture Subcommittee. He did his bachelor's degree exhibit in pastel at University of Dayton. He received his master's from Michigan State University.
Here are some of the 21 paintings by 14 artists included in the exhibition:

RECENT EXHIBITIONS
Visions: Northern Indiana Pastel Society Members' Show
March 15–May 1, 2021
Salvation Army Kroc Center
900 W. Western Ave., South Bend IN 46601
On view are 39 works by 25 artists.

The prize judge was Angelo Ray Martinez, assistant professor of art at Holy Cross College. He selected four judge's awards (with $75 cash prizes) and in honor of the 15th anniversary of the founding of our pastel society, he selected an additional four merit awards (with $50 cash prizes).
Congratulations to the following artists:
Judge's Awards:
Peg Luecke, "Sycamore"
Diann Nelson, "Corinne 2020"
MaryAnn Ross, "Remnant of Fall"
Megan R. Wright, "Three Pears"
Merit Awards:
Tana S. Bondar, "Purple Passion"
Hilarie Couture, "Flamenco Drama"
Rosie Mireles, "April Snows"
Paul Wieber, "Alyssa, Sleeping"
Here are some of the works exhibited: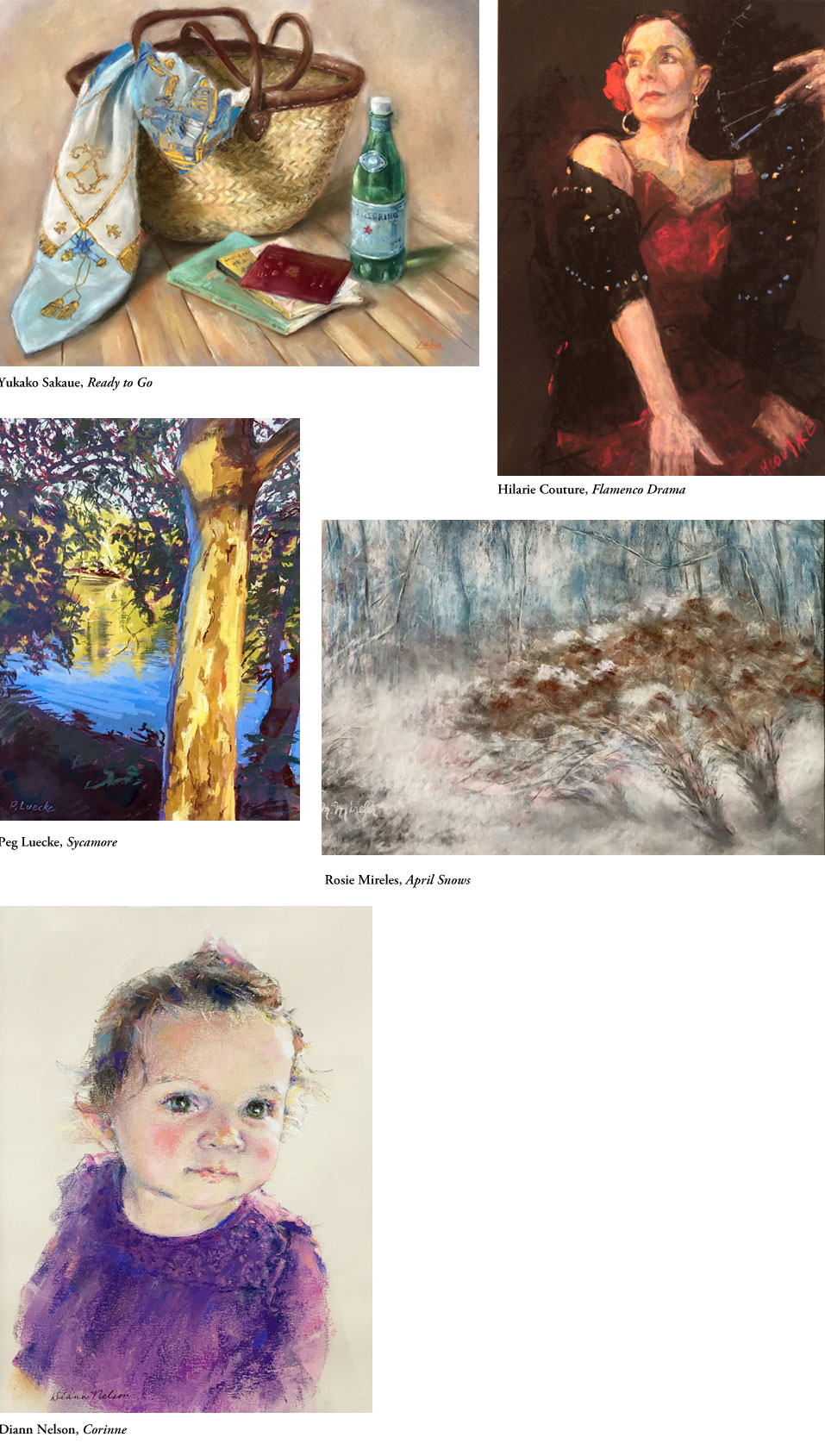 RECENT EXHIBITIONS
Northern Indiana Pastel Society Members' Show
Sept. 11 – Oct. 23, 2020  | Colfax Cultural Center

All three galleries
914 Lincolnway West, South Bend, IN 46616
We had 33 entries from 18 artists.
Justin Barfield, art faculty member at University of Notre Dame, installed the art and served as juror.
Congratulations to the following award winners:
Clare Hoinville for Carrots, 
Corrine Hull for After the Storm 
Mary Ann Ross for The Lord's Palette
Tim Swagerle for She Won't Be Here Long
Most painting are available for sale. Click here for a list of exhibiting artists and price list.
Selections of paintings exhibited: