Don't Miss Our Next Meeting!
Sunday, April 28 | 1:30 p.m.
Upstairs studio
South Bend Museum of Art
120 S. Dr. Martin Luther King Jr. Blvd.  South Bend
Located in the Century Center, downtown South Bend
Program: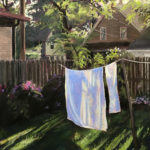 Noting Splendor from My Doorstep: Pastel paintings of Peg Luecke
Just in time for spring, award-winning pastel artist Peg Luecke will show her landscape paintings and give insight into her compositions and underpainting style. Peg focuses on scenes around her home in South Bend.
Also, Rex Edwards will offer 25-30 art books for sale to benefit our pastel society. Bring a cash donation and take home a book or two.

EXHIBITIONS

Faces and Places: Northern Indiana Pastel Society Members' Show
Salvation Army Kroc Community Center
900 W Western Avenue
South Bend, Indiana 46601
March 15-May 18, 2019
Kroc Hours: 5:30 a.m. to 9 p.m.  Monday through Friday, 7 a.m. to 7 p.m. Saturday and 9 a.m. to 5 p.m. Sunday.
Reception and awards Thursday, March 21, 5:30-7:30 p.m.
Art will be released Saturday May 18, 3-5 p.m.
Prizes were selected by Assistant Prof. Angelo Martinez, art dept. chair, Holy Cross College.
The following artists received Judge's Awards:

Below is a sampling of some of the 47 pastels on exhibit.

Upcoming EXHIBITIONS
Buchanan Art Center | Spring 2020
Colfax Cultural Center | September – October 2020
RECENT EXHIBITIONS
Reflections in Pastel: Northern Indiana Pastel Society Membership Exhibit
South Bend Civic Theatre
403 N. Main St., South Bend 46601
November 9 – December 23, 2018
52 works in pastel exhibited by 30 members of Northern Indiana Pastel Society
Reflections in Pastel: Northern Indiana Pastel Society Membership Exhibit
Oct. 6 – Nov. 4, 2018 | MoonTree Studios
9638 Union Road, at the Center at Donaldson, Plymouth, Indiana.
Reception with awards 1-3 p.m. Saturday, Oct. 13.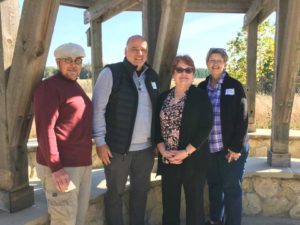 Award winners included:
Avon Waters, Reflections
T.R. (Tim) Swagerle, Carnival
Evelyn Schwenk, Still Waiting,
Greg Lorch, After the Storm 2
Lylanne Musselman, Hello Darkness
Pictured from left: Avon Waters, Greg Lorch, Evelyn Schwenk and Lylanne Musselman