Upcoming Events
Holiday Potluck
Friday, Dec. 8  11:30–1:30pm
Pinhook Community Center, Pinhook Park, South Bend.
Hosted by the Northern Indiana Pastel Society and the Friday Pinhook Pastel Group
Artists may bring a guest
Social time starts at 11:30 a.m. Luncheon will begin at noon.
Potluck Fare: Chicken, beverages, and setups will be provided. We suggest that those whose last names begin with A-G provide a salad or appetizer, H-Q a vegetable, potato, pasta, or other side dish, and R-Z a dessert. Electric outlets will be available for crockpots. Microwave oven is not available.
Art display: Artists are invited to bring a pastel artwork on an easel. This can be a new or old piece, framed or unframed. A few extra easels will be available.
Book exchange: Artists are invited to bring an art book or two to donate. Artists can then select a book for a cash donation. Proceeds will benefit Northern Indiana Pastel Society speaker fees, website, IAPS membership and Scholastic Awards.
To RSVP: Contact Mary Firtl at [email protected]. Provide your name, phone number, whether you will bring a guest, the food you will bring and whether you need an electrical outlet.
How to help: Assistance will be needed at 10:30 a.m. with setting up tables, decorating, book exchange, and art display. Afterwards, we will need help with cleanup. Please contact Dee Thornton at [email protected] and say how you can assist.
Recent NIPS Exhibitions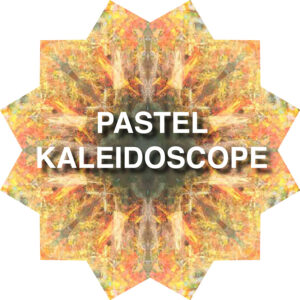 Northern Indiana Pastel Society Membership Exhibit:
Pastel Kaleidoscope
Sept. 19 – Oct. 28, 2023, 
Roti Roti Art Center, formerly Buchanan Art Center
117 West Front St.
Buchanan, Michigan
Featured 31 works by 22 NIPS members. The judge was David Baker, emeritus art faculty at Southwestern Michigan College, and currently active in the Box Factory for the Arts, St. Joseph, Michigan.
Recipients of the Walter Gunn Memorial Awards, in memory of recently passed NIPs member Walter Gunn are:
Mary Firtl, "The View from the Bridge"
Elizabeth Kuntz, "Gatekeeper"
Peg Luecke, "Summer Evening on the St. Joe"
Emma Marsh, "Push"
Robert R. Williams, "Layla in White with Summer Hat"
Here are some of the painting on exhibit.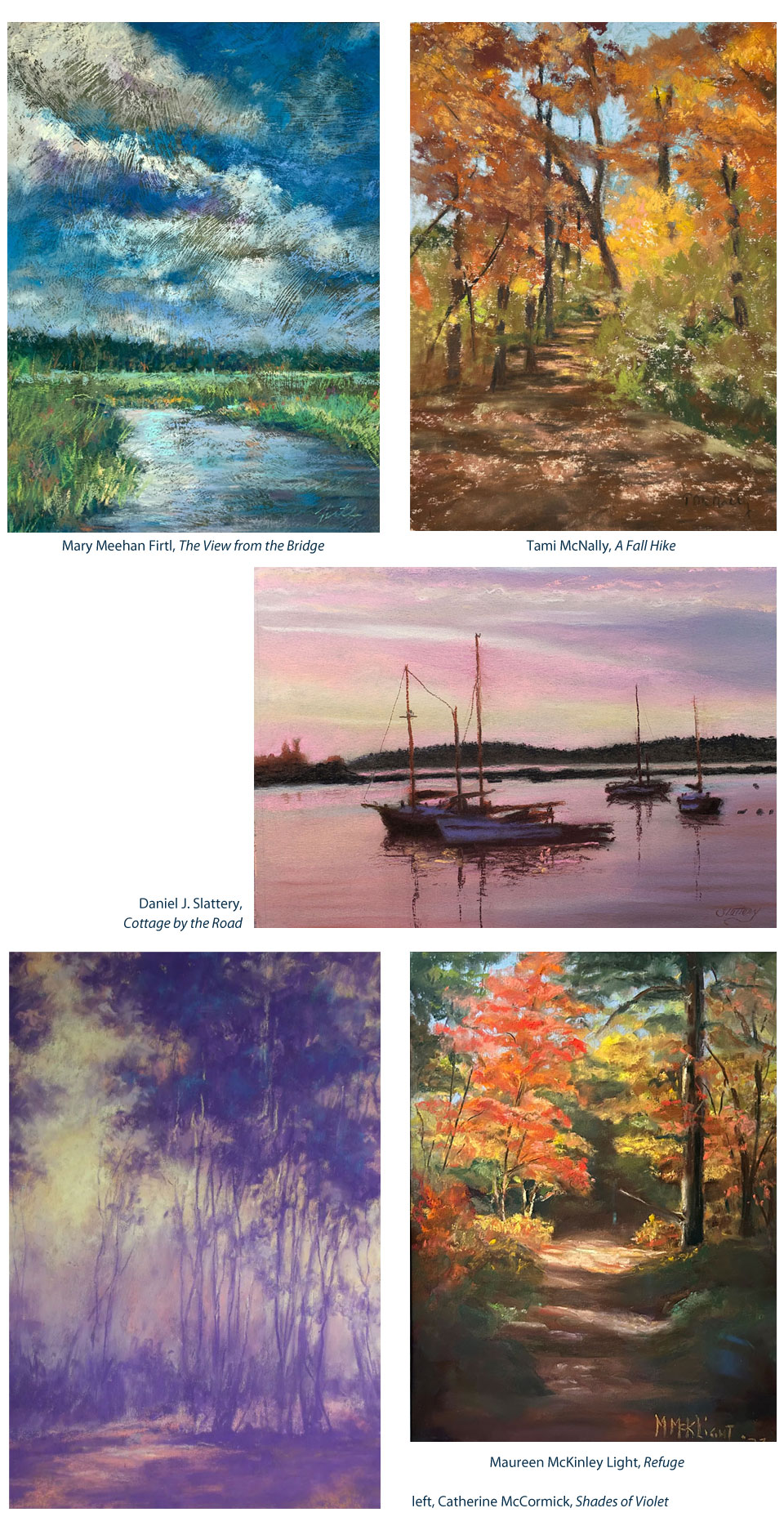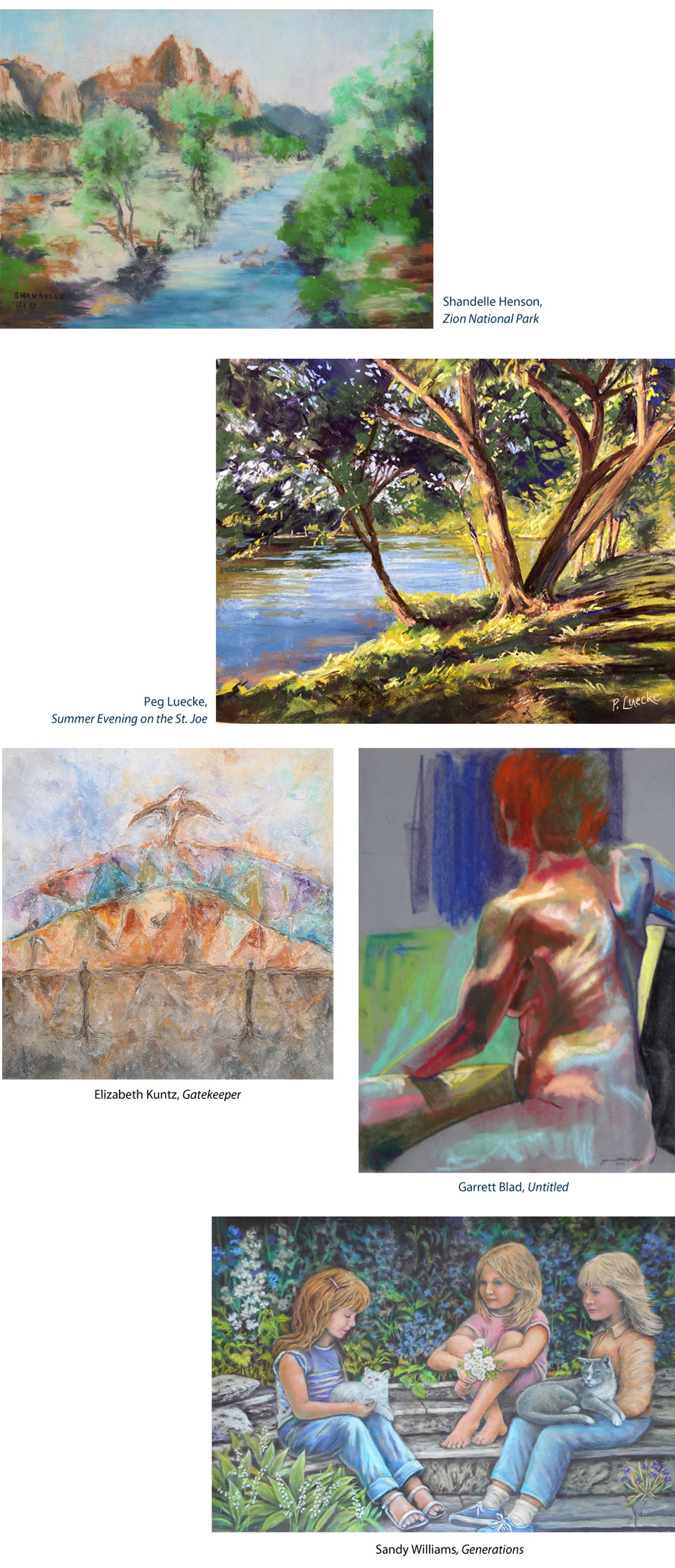 Upcoming NIPS Exhibitions
Heartland Artists Gallery, Plymouth, Ind.
JULY 2024
Colfax Cultural Center, South Bend, Ind.
SEPTEMBER-OCTOBER 2025

Recent Events
NIPS Meeting | Saturday, October 28 2023
Program: Venture into Pastels
Saturday, October 28, 2023
Francis Branch Library, South Bend
Our speaker, Mary Ann Pals of Chesterton, Indiana, described her experience as artist in residence at Indiana Dunes National Park, and showed her art that was inspired by the Dunes.